Thomas Magnet School Tigers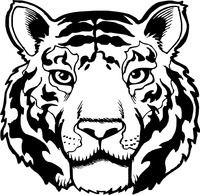 Greetings to the Thomas Magnet School community!
Welcome to Thomas Magnet School! I am honored to have the opportunity to serve as principal of an amazing learning community. We are excited to begin our sixth year serving students throughout Bedford County. We pride ourselves in a student centered learning environment and our rigorous curriculum prepares our students for future academic demands. Our teachers rise to this challenge by offering a variety of educational experiences to enrich students and empower them to expand their horizons. Each child is valued and loved as we work as a community of learners to ensure that all students achieve their highest academic potential.
Students explore learning through hands-on experiments and projects during enrichment classes. Student products are displayed and admired by parents and other community members during TMS's annual Showcase Night. Students learn to express their thoughts and opinions by communicating openly during Paideia Socratic Seminars. A musical production exhibits the musical and dramatic talents of the student. In addition to traditional related arts classes such as art, music and physical education, students participate in Chinese culture classes taught by a teacher from the Confucius Institute. For 2013-14, our related arts teachers will implement the SMART research-based developmental program for our kindergarten students.
Thomas Magnet School was recognized as a 2011-12 Reward School by the Tennessee Department of Education. Reward Schools are the top 5% of schools in Tennessee that showed significant growth and/or academic achievement on standardized tests. Schools singled out for progress were in the top 5% for year-over-year progress as measured by school-wide value-added data. Schools cited for performance were in the top 5% as measured by overall achievement levels. Thomas Magnet School was named a Reward School for both performance and progress. TMS was also recently named a National Title 1 Distinguished School in the category of exceptional student performance for two or more consecutive years.
Family and community volunteers play a critical role in the development of each child's educational success at TMS. Years of educational research state that schools with high levels of family and community support promote higher academic achievement and social development for the students for which they serve. Thomas Magnet School values our relationship with our parents and our community as we work together toward student success.
We are always eager to get to know more about our TMS family and to answer any questions you may have. I would consider it my privilege to assist you in your child's educational journey. Please contact me at 931-684-6818 or by email at carterl@bedfordk12tn.net if you have any questions, suggestions, or concerns.